Since the introduction of the WWE Network in early 2014, fans have been given the benefit of almost every PPV that the company has ever produced. Along with classic RAW and SmackDown episodes being added more recently that are able to feed in to our crave for wrestling nostalgia. 
This is also packaged with the whole WCW and ECW library. As well as the majority of programming that McMahon purchased during the 1980s and 1990s. However, with all of the wrestling content that you have at the tip of your fingers, it can still be a challenge to find the matches you may have never seen before and aim to tick them of your metaphorical wrestling checklist. With the 'Big Four' PPV's overshadowing the labelled 'standard' PPV events, is easy to find yourself scrolling past the shows that you may not know include a hidden gem of the ages. With that in mind, these ten matches (in no particular order) are those considered the gems that many find themselves overlooking. Yet deserve the recognition from the fans nonetheless.
---
1. Shawn Michaels vs. Owen Hart (In Your House 6: Rage in the Cage)
It's safe to say that Shawn Michaels' battle with Owen Hart is a distinctive definition of a wrestling hidden gem. With the 'In Your House' format considered a thing of ancient history in pro wrestling, you will have to do a significant amount of scrolling before coming across this match. However, the effort to do so will prove to be worth your time.
Although Michaels is billed as the clear favourite from the start, Owen proves to be just as good competition as brother Bret was, showcasing his submission specialties while keeping up with the fast pace of Michaels. While the majority of the offence came from Michael's end, Owen was given the time to produce some gruelling technical action and lock in his pertinent Sharpshooter.
Both men were out for a show stealer, in a card that was arguably stacked with a decent card, it was clear that both men wanted to help eachother to create a classic bout as well the best match of the night. While most of the talk nowadays in Michaels' iconic bouts with Bret, lest we forget that Owen was just as capable to tango with Shawn. If only they had a few more matches following this to truly cement an underrated match-up.
---
2. The Rock vs. Chris Benoit (Fully Loaded, 2000)
We all know that there are obvious reasons that this match has fallen in to obscurity. But regardless of such a sensitive subject. There is no doubt that this match is considered one of the best to happen during the attitude era. However, there's a fat chance that you never knew it happened.
Main eventing the Fully Loaded PPV, The Rock had reached the peak of his powers as a babyface. Contrasting with an up and coming heel Benoit with Shane McMahon in his corner. This, in a fighting effort towards the WWF championship. Rocky was set at a disadvantaged point from the start, due to the constant aid of McMahon towards Benoit's regime. Furthermore, this helped spark some electric crowd reactions towards The Rock. Which, was nothing less than deserved for the match on the night. Setting a fitting tone for the action that would soon follow.
With all the setback's put in front of Rock on the night, you seemed to question whether he would actually be leaving as champion as many would have predicted. This is exactly what The Rock needed at the time to prove that he may be capable of losing rather than being a dominant champion; he proved himself to truly be the people's champion on the night more so than any other match in his career.
---
3. Chris Jericho vs. Rey Mysterio (The Bash, 2009)
I am never able to put my finger on why this match lacks the appreciation it deserves. Apart from the fact that this was arguably the best match of a lacklustre year of wrestling, it also has to be considered as one of Jericho's best matches to date.
With both men having the set in story of Mysterio's mask on the line, as well as their obvious in-ring talent, they are both destined to create gold together, and this match, more so than their original, was proof of two men who had been in the business long enough to create a match that had every aspect of of the story they were telling along with stellar in ring moves that either man had used before.
In a year that WWE lacked the in-ring excitement they were recognised for and instead invested in Celebrity appearances, the match and rivalry felt fresh, thrilling and original, something that the new PG Era of WWE had failed to adapt to in its early years of reinvention.
---
4. Matt Hardy vs. Edge- Steel Cage Match- (Unforgiven, 2005)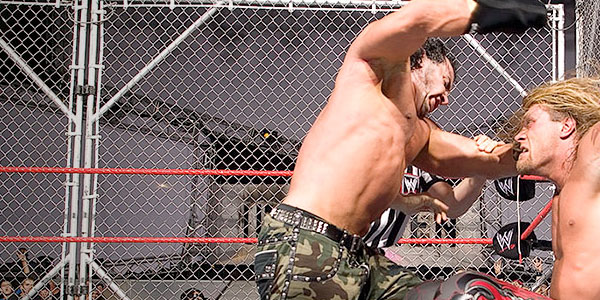 The majority of fans will know that it's difficult to have a solid match in the confinement of a steel cage. Unless, in this case, it has the storyline development and a true intense rivalry. Which meant that both men could take advantage of the structure around them for intention of pain.
The real life rivalry between Matt and Edge meant that a steel cage match was logical, and they were able to thrive in a steel cage in a way most fans hadn't seen before.
With the inclusion of turncoat Lita on the outside, both men came in with the clear purpose of pain in the honour of Lita. While on paper, the idea of implementing a real life rivalry in to a TV show is almost comical, in some ways in this case it felt right for both men in order to develop their careers. You could not help but feel as if the fight you were watching felt real.
With Edge getting cut open and profoundly bleeding for most of the match. Matt went to extreme lengths to prove himself against a proven star in Edge. With the main spot in the match being him leaping from the top of the cage on to a limp Edge. However, Lita's brash interruption in the match allowed Edge to take advantage of a distracted Matt Hardy, and would cover him in a pinfall in a puddle of his own blood. It was a true proving point for Matt Hardy, and arguably the best bout in his WWE career. Don't let it be forgotten.
---
5. Kurt Angle vs. Rey Mysterio (Summerslam, 2002)
Angle and Mysterio are clear contrasts in terms of wrestling technique. With Angle being recognised as one of the best technical wrestlers of his time. In contrast, with one of the best high-flyers ever. And for the most part, the contrast is apparent, and it truly felt like both styles clashed together in order to determine which was more effective and impactful.
Mysterio would use his speed to his advantage, while Kurt would use his power to overbear Mysterio whenever he got his hands on him. Whenever Mysterio unleashed his top rope manovuers, Angle would hit back with brutal german suplexes. It made for an exciting bout on an already stacked card, and even in the limited time they were given, were able to fit everything in to create a David vs. Goliath style match up.
During a time in which Mysterio was still trying to find his feet in the land of giants, his battle with Kurt Angle allowed him to cement himself as a top superstar, regardless of his weight class. Angle was the perfect opponent for Mysterio to prove that he was able to thrive in a word that seemed so against him. Although the match didn't necessarily steal the show on the night, it has to be considered the best opening match to a Summerslam event.
---
6. Daniel Bryan vs. Dolph Ziggler (RAW, March 30th 2015)
2015 was a poor year for WWE overall. Mostly due to the lack of top level talent with injuries plaguing the majority of the roster. One of those being Daniel Bryan. However, even during a career ending year, he was still capable to put on the best match in WWE that year.
Not only that, but it was free for viewing on the RAW after Wrestlemania, treating fans to a match that was better than the majority of the matches on the Wrestlemania card prior to the event.
It is clear that Ziggler and Bryan have undeniable chemisty. Even in Bryan's early years in the business, he was putting on stellar matches with Ziggler. But in this case, both men had reached a veteran level in the ring. This came to light when both men put on a rare showcase of stiff a stiff match that is usually conventional of those found in New Japan. Both men seemed desperate to break a mold in the WWE by hitting harder than a casual audience had not seen before.
Bryan would sadly have to end his career shortly after this match, due to continuing issues with his neck and spine that had piled up over his many years in the business. However, if this is what Bryan has left us with, then it's safe to say that he went out on a high point. With it being highly unlikely that he will again step foot in a wrestling ring, you should definitely spend the time watching this match and soaking in the talent of one of the best wresters of the modern era at the peak of his ability.
---
7. Randy Orton vs. Christian (Summerslam, 2011)
Christian has always found himself in a category in which he is labelled 'underrated'. Mostly due to the fact that McMahon had always favoured his tag partner Edge. Fans felt like Christian never got the limelight that he rightfully deserved. He was a great in-ring worker, as well as having a fairly large fanbase. All he needed was the right rivalry, and that came in the form of Randy Orton.
Orton had a unique chemistry with Christian. Moreover, it was clear that both men enjoyed the programme they were in together and wanted to show that they were capable of a compelling match. Which correlated with an already compelling story. On the night, Orton and Christian held up a fast-paced bout from the beginning. Furthermore, they never let the match lose its steam by adding the unique use of the weapons around them. Excelling in the extreme rules stipulation they were placed in.
In a year dominated by CM Punk, it is easy for matches such as Orton and Christian to be overshadowed. As it was always considered the secondary title, it was never presented in a way that made it felt as significant as its RAW counterpart. Yet, even without the elevation of the company, Orton and Christian were still able to put on one of the best Summerslam matches of all time. A truly underrated match up that shouldn't be on this list in the first place.
---
8. Tyson Kidd vs. Neville (NXT Takeover)
In the early years of NXt's exclusive addition to the Network, Adrian Neville was a dominant NXT champion. Rightly so. He has bagfuls of talent and he showed that during his title reign. It seemed as if no one matched his in-ring workrate and talent. Up until the point he first stepped in to the ring with Tyson Kidd.
Kidd will always be considered a criminally underrated wrestler. It was clear that he would never be set on a platform that his in-ring skills deserved. This all changed for Kidd when he was placed in to the NXT roster, and thrived in the position. He was one of Neville's toughest opponents during his lengthy reign. Kidd and Neville almost paralleled in their in-ring presence. It was hard to determine any differences between the two that could distinguish a clear predictable winner.
 The level of in ring talent during the early years of NXT on the WWE Network meant that this match became a distant memory compared to the matches that would follow this. However, this should be considered the match that set the bar for all NXT Takeover main events. Clear proof that both men should be appreciated for their unparalleled talent levels.
---
9. Eddie Guerrero vs. Rob Van Dam (RAW, May 27th 2002)
A ladder match on a RAW or SmackDown episode has become a rarity nowadays. If not a non-existent entity on any of WWE's free TV shows. But there was a time when the company where throwing out gimmick matches on a weekly basis on free TV. Especially the ever popular ladder match stipulation.
One ladder match that stood out from all the others. The Intercontinental Championship ladder match between fan favourites Rob Van Dam and Eddie Guerrero.
During a time in which both men were thriving in their new company. This was at a time where both men were dominating the mid card. Years before they became world champions. This match out of all of their mid card bouts stands out in a different light. As it is one of the most brutal, sadistic ladder matches in WWE.
With hard-hitting headshots from the edge of the ladder followed by diving moves upon the steps of the ladder. Showing that both men were out there to risk it for the greater good. For both the prestige of the title and living up to the importance of main event matches. Even with the unplanned appearance of a fan who rushed the ring and knocked Guerrero off his ladder. Almost potentially injuring him, they were still more and able to stay concentrated on the planned they had set. Truly a spectacle.
This match finds itself barely mentioned due to the prominent inclusion of one Chris Benoit. Furthermore, means that such a classic match will also find itself hidden in a the broad WWE vault. However, it is the type of match worth watching to experience the true dangers of the ladder match. Finally showing how high risk action can truly pay off.
---
10. Triple H & Stone Cold Steve Austin vs. Chris Benoit & Chris Jericho (RAW, May 21st 2001)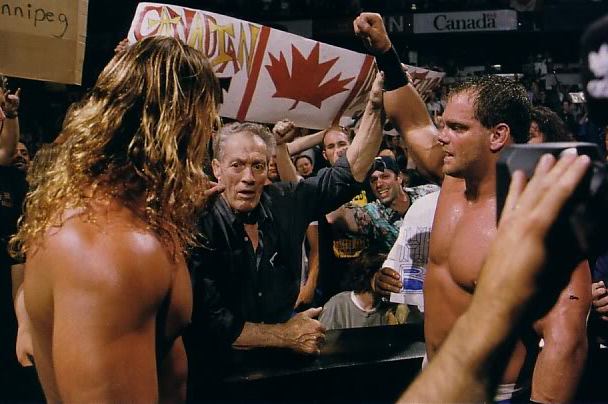 It's weird to think that Triple H and Stone Cold were ever tag team partners, let alone tag team champions. Although their run as a tag team was cut short due to an injury. They were still both able to put on some classic match-ups. Moreover, the best one to come from this mismatch tag team was their bout with Chris Benoit and Chris Jericho.
Again, you'll know why this is considered a gem rather than a prominently famous match. However, if this was not the case, this would have probably been regarded as the best tag team match in RAW history. Even when Triple H tore his quad in the very middle of the match, he was still able to continue on. Taking a Walls Of Jericho on the announce table to add salt to the wounds. He handled it like a professional, when it could've potentially cut the classic bout short of its potential.
Both Benoit and Jericho in their home country of Canada. The fans helped carry on the Canadians through the match. Furthermore, it benefited the fast moving action as the match grew on. By the climax, fans in attendance were on their feet. Jubilant due to the unexpected wrestling clinic that many on the night would have not seen coming.
In a way, it's a shame that this will never receive the mainstream attention it rightfully deserves. Nevertheless, it's worth finding on the Network and soaking in the emotion of the participants in the match. As well as the electric Canadian crowd.
---